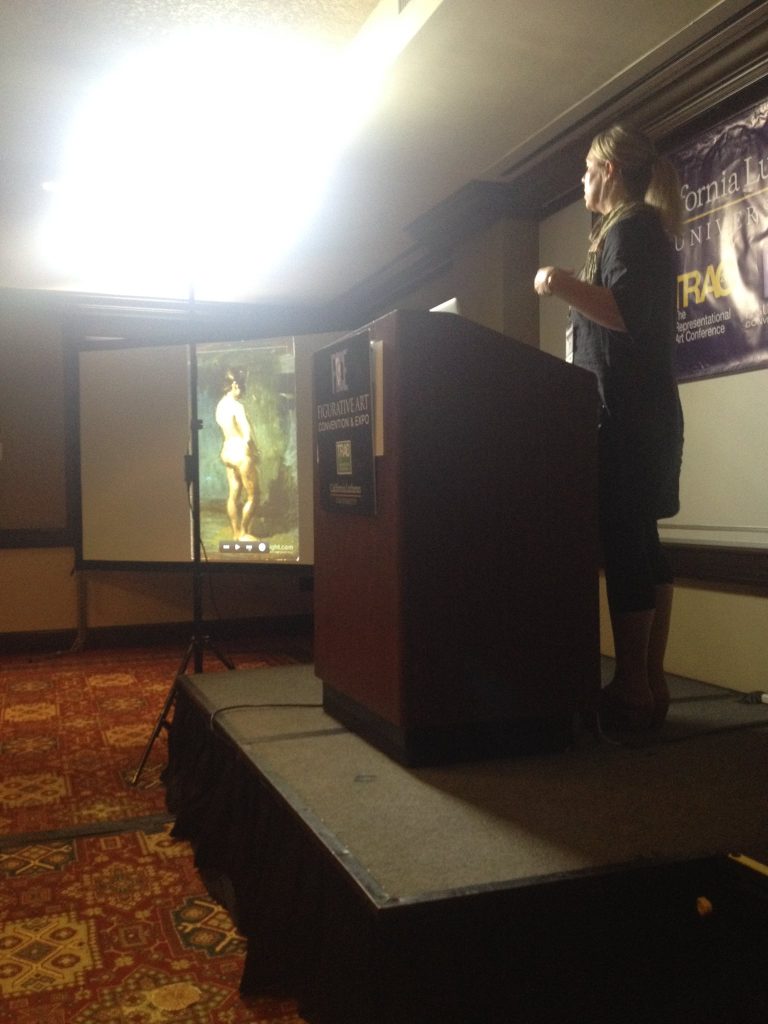 Discussing Eakins during my paper presentation and talk/slideshow at the Representational Art Conference/Figurative Art Convention in Miami, Florida 2017. The title of my paper was: Contrapposto and the Techtonics of Gender. The paper was chosen for publication and inclusion in the conference proceedings.
From the Conference Website:
Contrapposto and the Tectonics of Gender (Saskia Ozols Eubanks)
Exploring the figure and the contrapposto offers ideological questions that have the potential to bring classical concerns into the present day. As current views of the body continue to change, maintaining a system for interpretation is vital for preservation and evolution alike.
The contrapposto pose depicts change and movement from one psychological, intellectual, or emotional state into another. Its physical morphology depicts motion, the process of transition, and suggests symbolic meaning that transcends common definition. Many familiar pieces that attempt to depict both a point of departure as well as a destination suggest binate meaning. These challenging pieces do not exist by the denial of their opposites, and shatter the idea of existence in only one state. They defy gravity, time, and structure in their technique. How can we consider the meaning of this morphology with the contemporary arguments on gender?
Examining the Reclining Hermaphroditus from ancient Greece as a reclining contrapposto and applying the criteria it inspires to an exploration of androgyny and hermaphroditism, we will find the contrapposto pose resonates in history regarding movement and change while simultaneously inspiring a subset of symbolic articulation relevant to contemporary questions and conversations on gender.
About Saskia
Saskia is a figurative painter from New Orleans, La. She has exhibited widely in the United States, having mounted 15 solo exhibitions, and numerous group exhibitions in cities including New Orleans, Boston, Philadelphia, and New York. In addition to painting and exhibiting she has worked in museum education, art conservation, as an independent curator, as an arts writer, and has taught studio painting, drawing and sculpture at a number of institutions as well as writing seminars on art at Boston University. Her most recent solo exhibition took place at the Diaghilev Museum of Contemporary Art in St. Petersburg, Russia, and she is currently working on a solo exhibit to open in New Orleans, La. in October of 2017. She is currently teaching painting at Tulane University as well as the New Orleans Academy of Fine Arts.