This current series of paintings celebrate the local flora of New Orleans and the Gulf South. Small gems of color, these compositions present blooms of the southern garden with generations of vessels and objects collected around the world. The intersection of atmosphere with an object and how we perceive the accompanying relationships of value, color and form allow endless contemplation. The simple beauty that surrounds us exists anywhere we look if we open our senses; in flowers, colors of the air, the light or darkness of the sky. As we allow the experience of inspiration we enter a unique intersection between art and reality. These intersections are abstract, infinite, and come alive through a dialogue of differences. 
To inquire please email https://www.saskiaozols.com/contact-me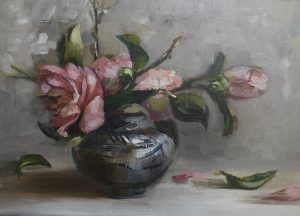 Artist's Statement:
I see painting as a meditation: an exploration of relationships I encounter through observation and experience. I find greatest inspiration working from nature; considering innate dualities as they move through varied passages of color, meaning, and form. The resulting images reflect the search for beauty as a journey through the fluidity of perception, the passing of time, and the structure of change.