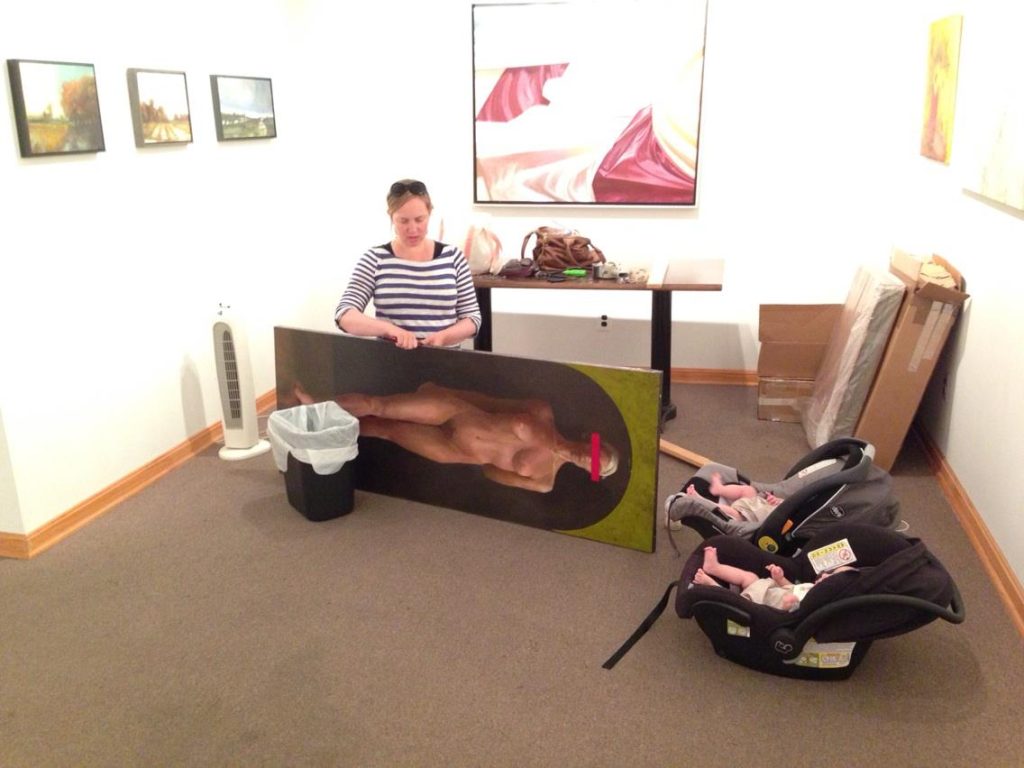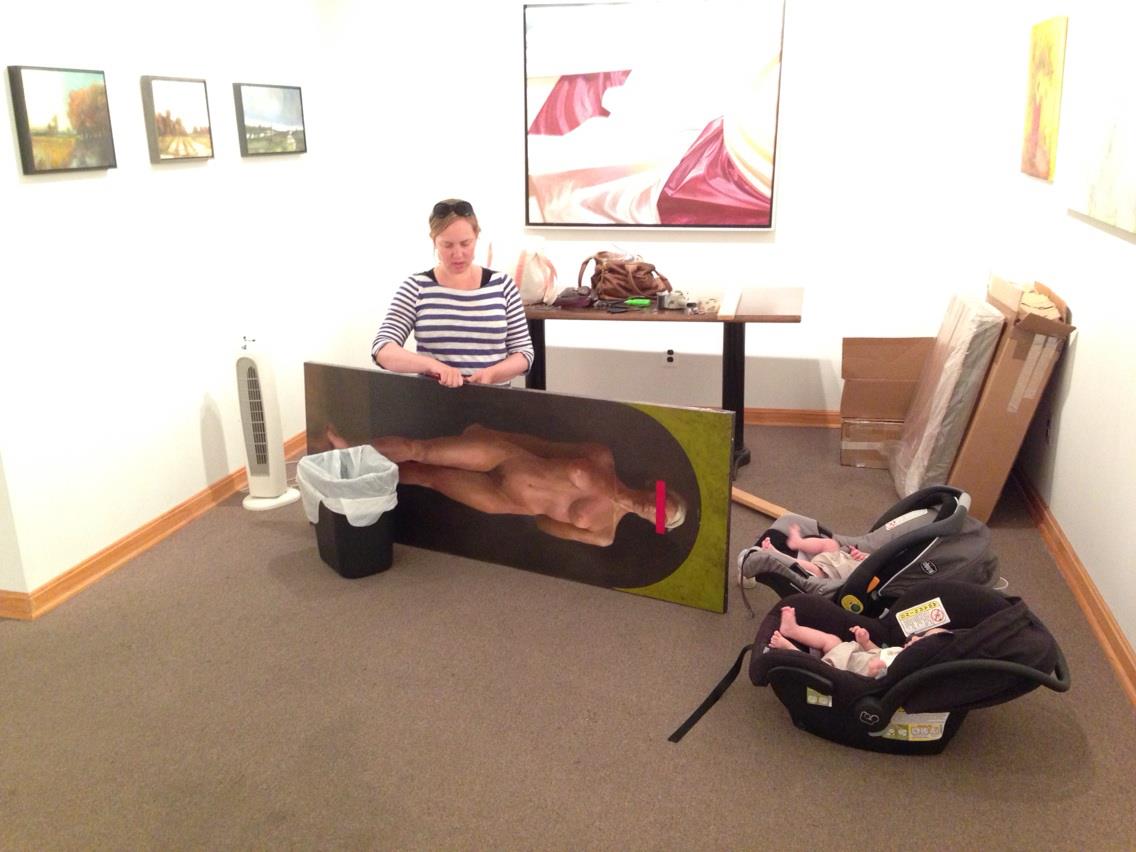 This photo was taken by one of the owners of the gallery in Philadelphia, 2013. Lorraine Riesenbach invited me to exhibit in Artist's House Gallery when I was still a student at the Pennsylvania Academy of Fine Arts.
In this moment I was dismantling paintings, with two month old twin babies in car seats next to me. The car was double parked outside of the gallery in the heart of the old city arts district in Philadelphia.
We were en route from Boston to New Orleans in the summer of 2013. I had a solo exhibit scheduled in New Orleans a few months later. It would open in the New Orleans Arts District on Julia Street during the yearly "Art for Art's Sake " October event.
After both of these 2013 exhibitions I flew with the babies to Moscow, Russia where we lived for the next three years.
The painting I am removing from stretcher bars was originally much larger. I cut it down and re-stretched it.
 Here, I am removing it from the smaller stretcher bars so that it will fit rolled up in the car for what was supposed to be a 3 day roadtrip from Boston to New Orleans (it ended up taking about a week.)
I made this painting originally as an 8 x 11 foot composition, and was exhibited in New Orleans in a group exhibit Curated by Carol Leake entitled "Women with Guns"
This painting entitled "The Witness" explored the experience of being the witness to a gun violence incident. 
Artists' House Gallery
57 North Second Street Getting There: Take the Market Frankford Line and get off at 2nd Street. February 1, 5 – 8:30 p.m. Free
Showcasing four local artists, this exhibition represents the best of Contemporary Realism. Valerie Craig captures the beauty of nature in grand American landscapes, composing her canvases with loose strokes reminiscent of the Impressionists. Saskia Ozols Eubanks also showcases nature's beauty, but through graceful, sinuous lines. Eubanks recreates traditional classicism from paintings of the New England landscape to academic paintings of nudes, flowers and fruits. Daniel Miller, a woodcut printmaker and Logan Speirs, an oil painter, are also featured. They display realistic portraits of famous artists such as Cezanne and Monet and recreate Van Gogh's famous sunflowers. Beware that you may walk away crying over the fact that you can't even draw a stick figure.
— Gina DeCagna
link to original article from 2013 https://www.34st.com/article/2013/01/thank-god-its-first-friday-7