This painting was one of a series of twelve I created during 2016-2017. The 5-6 foot paintings of abandoned nests investigated understandings of home while exploring the manner in which man occupies, nurtures, or violates the environment in which he lives. Each nest was a found object I encountered amidst the activities of daily routine. The work addressed circumstances of moving back to New Orleans after living abroad, and re-examining how to connect and re-define to the concept of "home."
With Abandoned Nest I, I found inspiration in a seasonally barren elderberry tree. It was encountering this gift from nature, a simple nest in the middle of winter, which launched my desire to explore the theme of home and what its direct contradictions might be. For me, home will always be a space where creation, communication, and development are fluid.
Art, in any form will always also be a part of home for me regardless of place, circumstance, or environment. In some ways the passion, drive to communicate, experience of creation, research, and complete immersion in in the activity of art exists as a moveable feast. I have learned to extricate myself from situations of cruelty and/or disrespect so unimaginable that admitting they exist was often more challenging than enduring them. This process resulted in re-defining what I had always considered "home, " and offered passage in a number of ways.
I have grown up with art as a part of every moment of life. I have learned the activity of art as a binding intellectual thread. Art will always exist and connect despite other external, destructive, or selfish influences.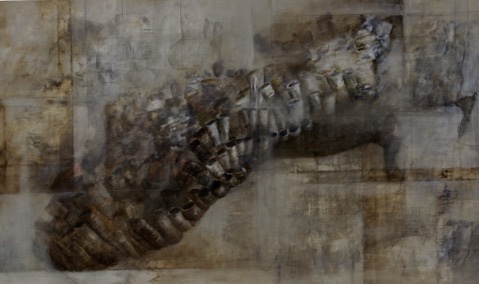 As I work, read and research to create a new body of work, a portion of the time is always spent in retrospect of past projects. My current interests and inspiration are leading toward unknown territory that combine aspects of my background, training, and independent research. How to combine all of these things? When will the untold number of studies lead to a painting I feel comfortable sharing ? The journey is unresolved and always an unfolding inspiration. A path which I have learned to embrace and endure with patience.