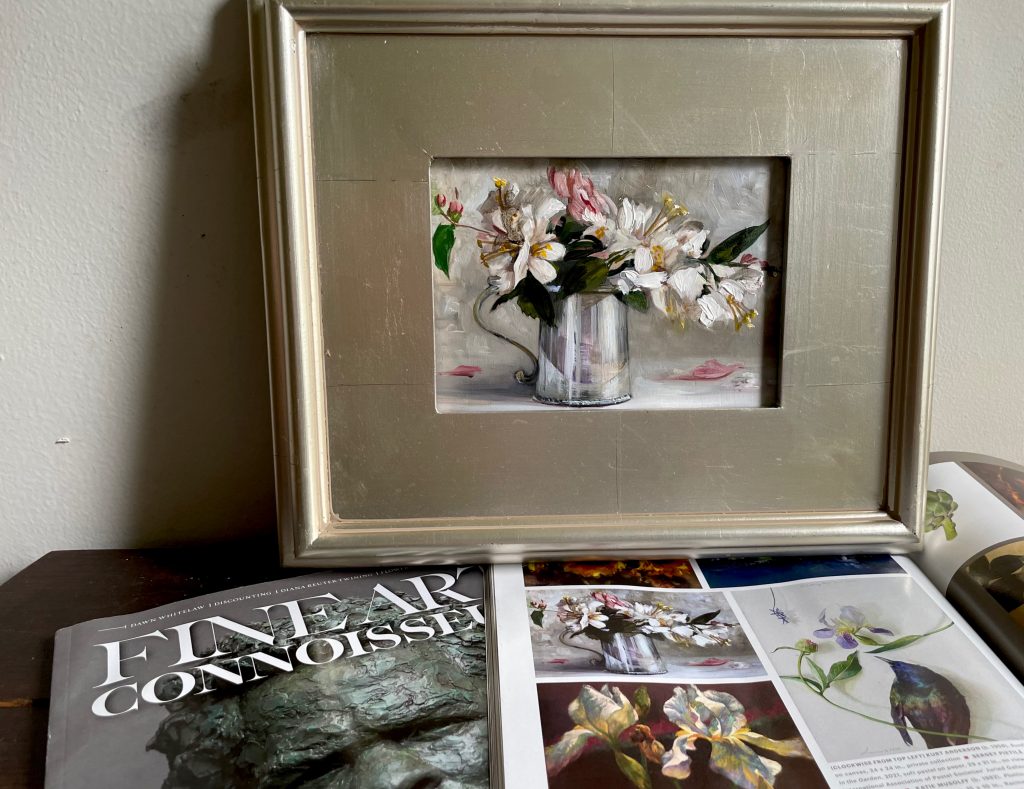 The July/August issue of Fine Art Connoisseur Magazine has included the painting: White Sasanquas in a Netherlandish Cup by Saskia Ozols.
In the article, "Blooms for Us All," Matthias Anderson writes: "Now that America's pandemic-related fog seems to be lifting, the editorial team at Fine Art Connoisseur opted to delight readers' beauty starved eyes with an array of superb contemporary artworks celebrating flowers, flowering foliage, and gardens. It never ceases to amaze us how each artist comes at what is essentially the same subject from a completely different viewpoint. Such individuality is just one of the things that makes the field of art so endlessly intriguing, just as flowers are among nature's most welcome gifts." (Fine Art Connoisseur Magazine)
"This is the second painting in my in progress series of 12 small works celebrating the local flora of the Gulf South. Small gems of color, these compositions celebrate blooms of the southern garden with generations of vessels and objects collected from around the world. 
The juxtaposition of a fixed place (represented through the flowers) with a moveable feast of international cultures (represented through the objects) allows a metaphorical travel during this challenging period of social distancing and quarantine. Investigating appreciation of one's own back yards with fantasy, memory, and dreams of future travel.
Winter Garden II, Sasanquas in a Netherlandish Cup, explores the juxtaposition of textures as they are impacted by the humid and water-filled atmosphere that envelope New Orleans.
The intersection of atmosphere with an object and how we perceive the accompanying relationships of value, color and form allow for endless contemplation. The simple beauty that surrounds us exists anywhere we look if we open our senses; in flowers, colors of the air, the light or darkness of the sky.
As we allow the experience of inspiration we enter a unique intersection between art and reality. These intersections are abstract, infinite, and come alive through a dialogue of differences." (Saskia Ozols)